Do you want to improve your confidence in screening, diagnosing, and optimizing care for patients with osteoporosis, including those with moderate risk?
If so, please register for one of the upcoming OCFP 'Osteoporosis and Fracture Prevention' workshops being held in:
Niagara on the Lake: April 17 from 1:15 pm to 5 pm
Mississauga Halton Region: May 3, 9:00 am to 12:45 pm
Toronto: Jun 22, 8 am to 11:45 am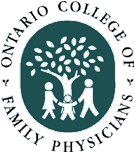 The workshops are part OCFP's Continuing Education Program and held in partnership with the Ontario Osteoporosis Strategy.
Through small-group discussions and case analysis, 'Osteoporosis and Fracture Prevention' addresses key issues – including osteoporosis-related fractures, secondary causes and current care gaps – and examines pharmacological treatment options, opportunities for non-pharmacological treatment, and drug holidays.
This Group Learning program has been certified by the College of Family Physicians of Canada for up to 7.0 Mainpro+ credits.
For more information or to register for an upcoming workshop, visit: https://cpd.ocfp.on.ca/