Do you have osteoarthritis or osteoporosis? Or just want to learn more about bone health?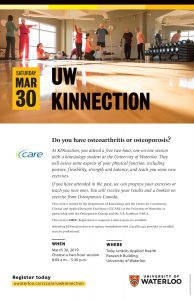 If so, come attend a free two-hour, interactive event with kinesiology students at the University of Waterloo. Get assessed for key aspects of your physical function including: posture, flexibility, strength and balance.
Learn some new exercises and go home with your results and a booklet on exercise from Osteoporosis Canada. Download Event Flyer.
Sign up for a two-hour session: uwaterloo.ca/cccare/uwkinnection
When: Saturday, March 30 from 8 am to 5:30 pm.
Where: Toby Jenkins Applied Health, Research Bldg. University of Waterloo
This event does not replace consultation with a health care provider or certified exercise professional.